How Technology Can Help You Improve Your Offshore Success
Trolling is one of the most effective methods for offshore anglers to locate and catch fish — especially "glamour" species like tuna, pelagic sharks and billfish. On my home waters of Southern California and Northern Baja, summer and fall days see throngs of boats prowling the popular offshore banks, ridges and high spots in search of fish. The VHF airwaves literally crackle with chatter about "temp breaks," "weedlines" and "knockdowns."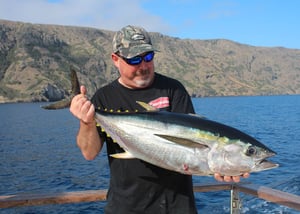 The most successful offshore anglers don't go out and troll blindly — they have a well-thought-out plan long before they ever leave the launch ramp or dock. And they use today's latest electronic charting technology to locate and effectively target gamefish in seemingly featureless tracts of water. It's the same in all oceans of the world; open-water gamefish are not evenly spread out. They will always gather wherever conditions are favorable and food is present.
Even many miles offshore in seemingly empty tracts of open water, schools of bait and gamefish are affected by deep-sea canyons, bottom irregularities and high spots. These seabed contours create upwelling, temperature breaks and currents that can concentrate baitfish and the offshore predators that feed on them. For these same reasons, waters around offshore canyons and high spots often concentrate floating mats of seaweed (known locally as kelp paddies) which are themselves natural fish attractants. This is why so much offshore fishing effort in this area focuses around well-known high spots such as the 181, 182, 172 or 277 Fathom Spots, to name just a few. It works the same way in all oceans of the world. It's no coincidence that most offshore fishing takes place around canyons, seamounts, ledges and other "structure." These bottom irregularities help create the very conditions offshore fish prefer.
With the accuracy of today GPS chart plotters and High-Resolution Bathymetric Charts from companies like Navionics, C-MAP and Garmin, anglers can troll these areas with a better understanding of the sea floor under the boat. The advanced technology in today's chart plotters — combined with accurate and up-to-date digital charts of the offshore region you're fishing — make them powerful tools in the offshore troller's arsenal.
Having this electronic edge helps you spend your trolling time more effectively and more efficiently — especially important with seemingly ever-rising fuel prices. Simply put, you'll be able to spend more time fishing where the fish are — and this is the fastest way to improve your success.
Equally important is the ability to mark on your plotter locations where you see schools of bait, spot jumping fish, notice water temperature changes on your boat's echosounder, and especially where you hook fish. Saving these as user marks makes it easy to figure out trends and return to especially productive areas to catch even more fish.
Most modern chart plotters and Multi-Function Displays (MFDs) have the ability to overlay real-time satellite weather data right onto the high-resolution cartography — including critical information like sea surface temperatures (SST). Depending on the species, gamefish will often concentrate on either the warm or cold side of a temperature break (a line which separates two water temperatures, not unlike a fence). Graphically seeing where pockets of warm or cool water are and understanding how these areas relate to offshore bottom contours is an important advantage for offshore trollers.
These are just some of the many ways today's latest electronic charting technology can help find more fish on your offshore trolling adventures.