If you own a boat, you already know that buying and installing "goodies" on your pride and joy is almost as much fun as getting out on the water. For clarification, we did say almost.
No matter how tricked-out your rig may be, you can always find ways to make it better. From basic storage accessories to state-of-the-art electronics, there is no shortage of ways to show your boat you love her. Here are five choices: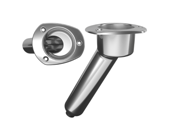 Mate Series Stainless Steel 30 Rod & Cup Holder — Fishing boats never seem to have enough places to hold all your rods…or all your drinks. This new product solves both problems. Designed to replace existing gunwale-mounted rod holders, the enlarged opening is designed to hold your favorite bottled or canned beverage when it's not in use as a rod holder. Fashioned from 316L stainless steel, this holder sells for around $110. Note, you might have to enlarge the opening in the gunwale slightly.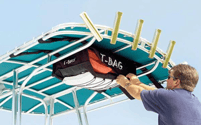 Kwik Tek T-Bag Storage Pack — Life jackets need to be readily accessible if they are going to help you in an emergency. Finding a good place to store them can be a problem, especially on center console skiffs or pontoon boats whose lockers are already crammed with "stuff." This life jacket storage system takes advantage of the usually wasted space underneath a boat's T-top or hard top. The T-Bag, which sells for around $65, keeps life jackets protected, out of the way and available at a moment's notice. What more could you want?

Icom M25 Handheld VHF — This durable 5W handheld radio is a great backup for your boat's main VHF, in case your communications ever go down. The M25 is fully waterproof and floats, making it an ideal choice for emergency "ditch bags." For added safety, the LED display, key backlights and a special red LED light on the back panel all flash when the radio contacts water. The Li-ion battery provides up to 11 hours of use. Selling for around $125, it's a great addition to any boat.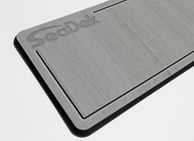 SeaDek Helm Station Pads — Anybody who has stood all day at the helm pounding through wave after wave knows how it eventually takes its toll on your back, feet, and joints. SeaDek offers two sizes of shock-absorbing helm station pads crafted from 15mm thick EVA foam. Peel and stick installation is quick and easy, yet it adheres securely in the harsh marine environment. The material is resistant to stains, fish blood and fading. Starting at around $100 and available in different colors, this can also be an attractive addition to swim platforms or other places where added traction is needed.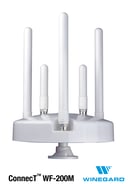 Winegard ConnecT WF-200M — Want to get away from it all, but still stay connected with your life back on shore? This marine WI-FI signal extender with built-in nationwide 4GLTE cellular lets you surf the web, email or even stream entertainment while onboard. Tap into and magnify WI-FI signals in any marina or port, and quickly and easily switch to pre-loaded, pre-paid 4GLTE data service when cruising coastal waters. As a bonus, this system (which sells for about $479) is designed and built in America and backed by U.S.-based customer service.