Prevention Remains The Best MFD Theft Solution
By Daniel Harper
Founder and CEO, Siren Marine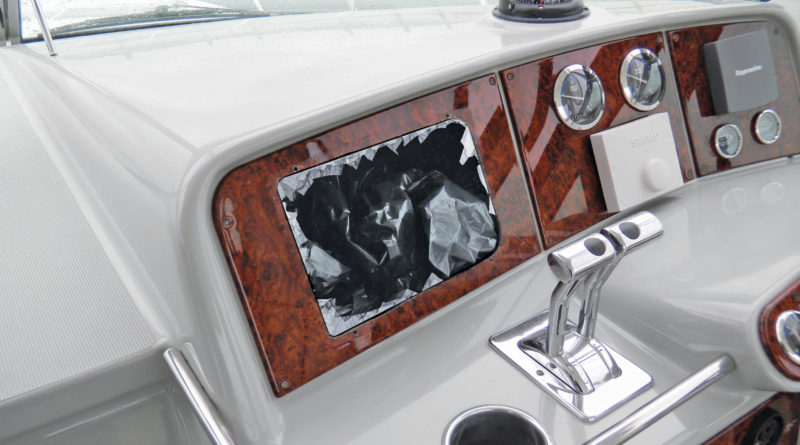 Electronics theft — particularly theft of expensive Multi-Function Displays or MFDs — has been a major issue in the marine industry for many years. Outboard motor theft is also a serious problem – possibly a worse problem. Consider this: both MFDs and outboard motors are highly visible, cost thousands of dollars and are essentially "bolted" to their host boats. These factors make them attractive targets for thieves wanting to cash in on high-value, high-demand products they can sell on the black market. As a result, boat theft has become a serious, almost crisis level epidemic.
There is currently a lot of industry buzz around the need for a solution, or at least a significant deterrent to boat, motor and electronics theft. The boating public has started screaming for help, and the industry is looking at a range of ways technology can be used to help solve this problem. Siren Marine has been involved in boat security and vessel monitoring since 2007, and this paper shares the benefits of our experience as the industry and boaters alike grapple with this complex problem.
Reactive Solutions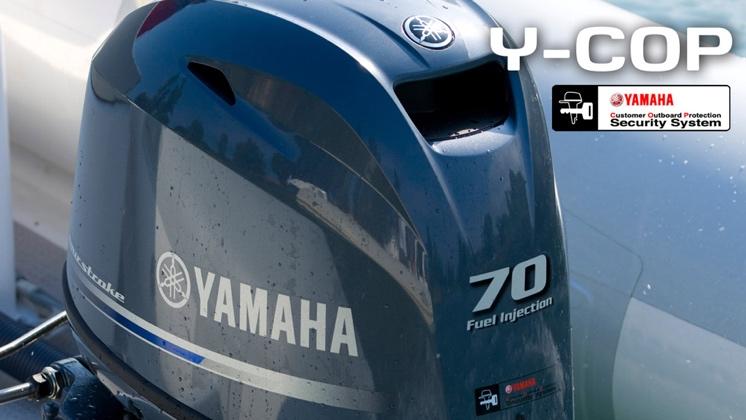 One solution that has been presented is for manufacturers to build in GPS tracking functionality, as well as pass codes to use the equipment. For example, Yamaha has introduced a platform known as YCop. Other manufacturers are also looking at different types of solutions designed to prevent their equipment from being used if stolen, while also providing the ability to track and recover the equipment. While the implementation of some of these approaches is interesting, they do not really address the core problem. Recovery or inoperability is not at all the same as prevention.
Proactive Solutions
Preventing theft — rather than reacting to it — is the only truly effective approach. In reality, if the motor, electronics, or anything else on the boat is stolen or vandalized, that boat owner has suffered a personal attack that damages far more than his or her bank account.
Even in the most minor of break-ins where little of value is stolen, this is still an invasion of privacy and sense of personal violation. However, if electronics or motors are stolen, weeks or months of boating fun are lost. Hassles with insurance companies can waste even more time. Even if everything is eventually covered by insurance, there is an economic cost in the loss of the owner's time and energy. If the value of the equipment and other damage is not covered by insurance, it could easily result in our pastime and our industry losing a valuable lifetime participant.
MFD Theft Solution
As is true with many challenging problems in life, the simplest solution is often the best. The solution is straightforward, affordable, practical and readily available today: a proven boat monitoring and security device.
Whether they are breaking into homes, automobiles or boats, thieves are opportunistic predators. They want to get in and out quickly while minimizing their own risk. Like jackals on the African savannah, they seek out the weakest and most vulnerable targets.
If a loud siren or strobe goes off the moment a thief steps aboard a boat, chances are high that the theft is going to be averted – regardless of whether his target was gear, electronics, motors, or the boat itself. Boaters who use vessel monitoring and security devices will receive an alert, so they can contact police and/or marina staff and go to the boat to investigate. This is a lot better than showing up to find your electronics are gone, your cabin has been raided or worse yet – your pride and joy has been stolen.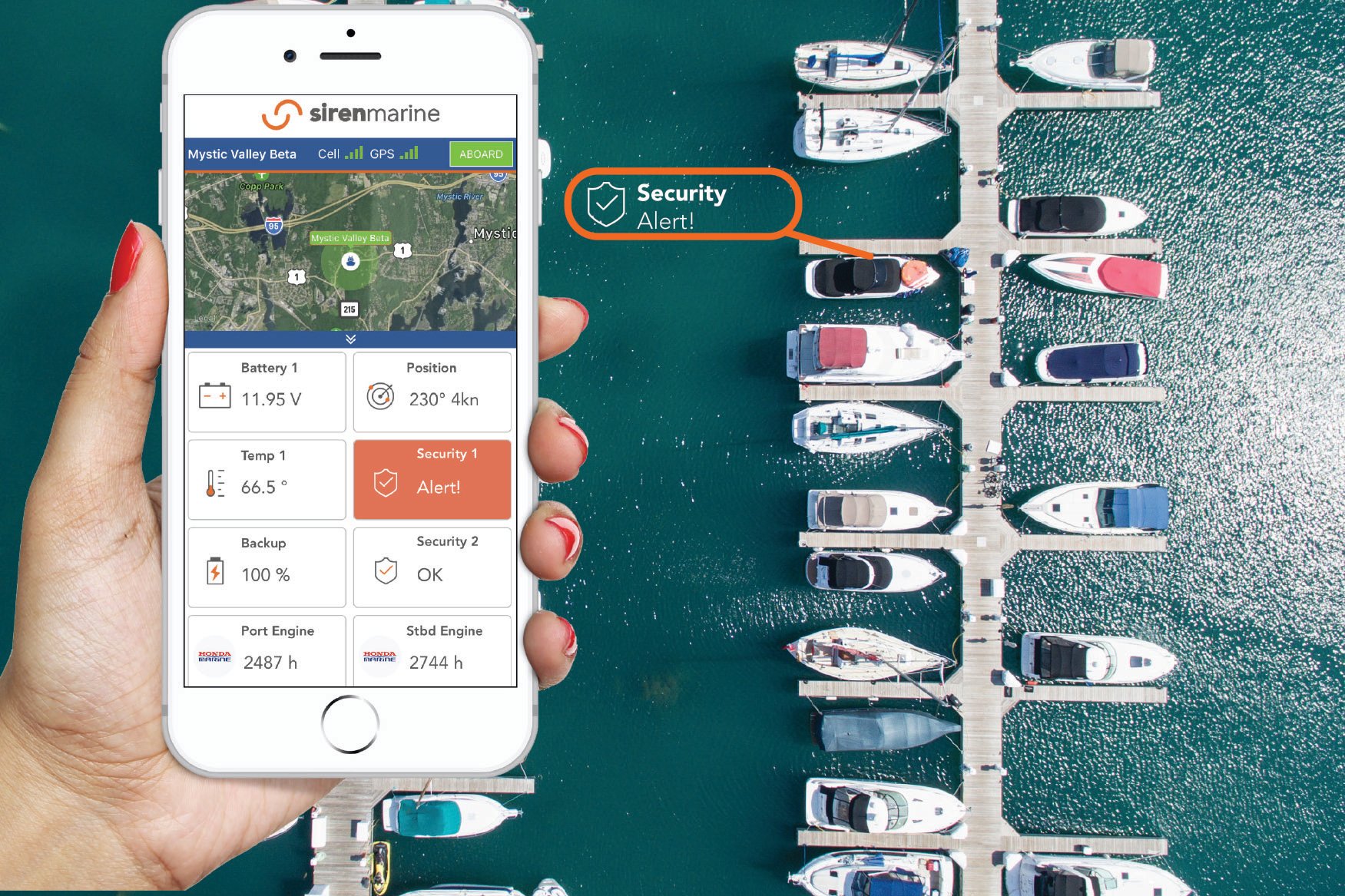 With the Siren Marine MTC (Monitor|Track|Control) system plus one or more of our available security sensors, a typical center console boat can be very reasonably secured from unauthorized entry. "Lighting up the neighborhood and making some noise" is still the most effective way to stop a crime before it takes place. More boats equipped with this technology will eventually turn the tide on the growing epidemic of boat, motor and electronic thefts in the marine industry.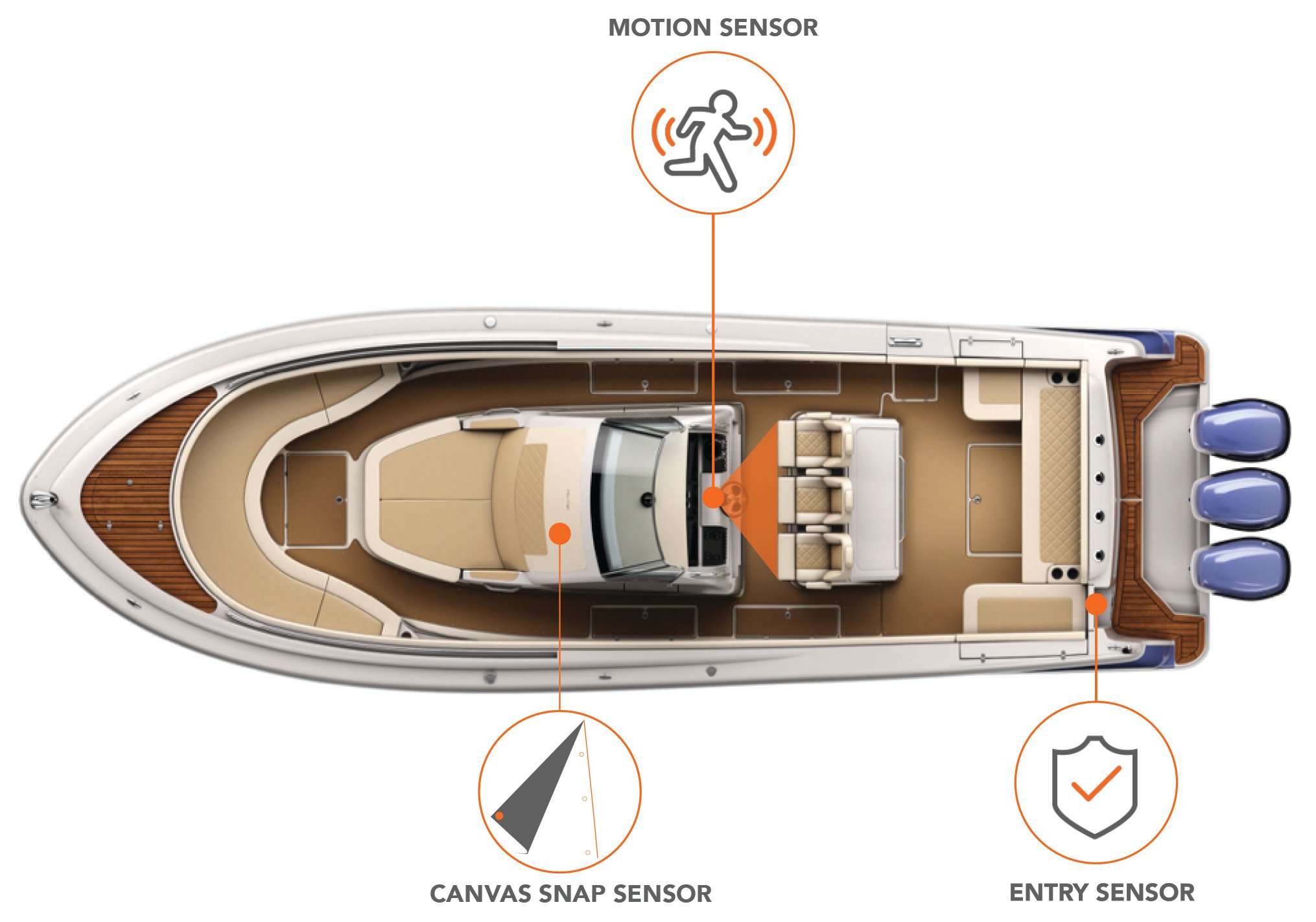 Securing boats properly in the challenging marine environment is not as easy as it sounds – as evidenced by a number of companies that have failed in the attempt to take off-the-shelf technology and adapt it to marine use. Success requires technology engineered from the ground up for the unique challenges of protecting boats. Siren Marine and GOST have been at it for a long time and have excellent, proven solutions available.
Marine Electronics Journal Excerpts, Reactions and Commentary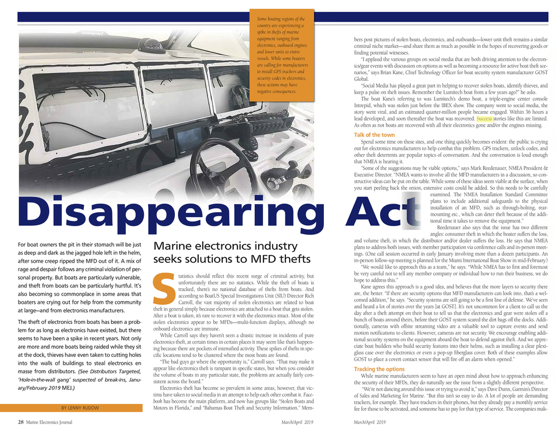 This paper includes excerpts and quotes from the article Disappearing Act; Marine electronics industry seeks solutions to MFD thefts published in the March/April 2019 issue of Marine Electronics Journal, the industry's leading electronics trade publication. For clarity, these passages are presented in italicized copy.
According to BoatUS Special Investigations Unit (SIU) Director Rich Carroll, the vast majority of stolen electronics are related to boat theft in general simply because electronics are attached to a boat that gets stolen. After a boat is taken, it's rare to recover it with the electronics intact. Most of the stolen electronics appear to be MFDs—multi-function displays, although no onboard electronics are immune.
The statement above limits the problem to electronics and outboard motors. Certainly, these are the two items driving the theft epidemic, but there are many other pain points to consider. The ideal solution should prevent unauthorized entry and theft, whether the target is electronics, motors, fishing gear, the booze in the galley or the boat itself. A single solution – a quality, reliable boat monitoring/alarm system – can detect, deter and alert boat owners to all of these, before they become a problem.
The Loud Cry from Social Media
We have seen an uptick in recent years with social media becoming a connection point and a catalyst for change.
"I applaud the various groups on social media that are both driving attention to the electronics/gear events with discussion on options, as well as becoming a resource for active boat theft scenarios," says Brian Kane, Chief Technology Officer for boat security system manufacturer GOST Global.
One only needs to look at Facebook to find dozens of groups committed to this industry trend. Among the loudest voices is the Facebook public group called, (Marine Electronics Industry) Stop the GPS Thefts! with hundreds of comments, letters to the marine electronics industry and support for boaters struggling with these challenges. Since October 17, 2018, nearly 100 industry players have requested a change, only to have their call to action fall on deaf ears.
Lumitech's Demo Boat – The Exception and not the Rule
"Social Media has played a great part in helping to recover stolen boats, identify thieves, and keep a pulse on theft issues. Remember the Lumitech boat from a few years ago?" he (Kane) asks.
Kane is referencing Lumitech's demo boat, a triple-engine center console Intrepid, which was stolen just before the IBEX show. The company went to social media, the story went viral, and an estimated quarter-million people became engaged. A lead developed within 36 hours, and soon thereafter the boat was recovered. Unfortunately, success stories like this are limited. More often than not, boats are recovered with all of their electronics gone and/or the engines missing.
In the MEJ story, we see how social media helped to recover a brand new showboat that Lumitech had tricked out for the Miami Boat Show. We see how a GOST system had actually sent an alert message and had tracked the boat to the destination where the boat was ultimately recovered. If the boat had lit up, and sounded a loud siren however, there is a pretty good chance that the boat would not have been stolen in the first place. It would have been an attempted theft, an infinitely better scenario. Nevertheless – the GOST boat security system that was installed greatly aided in the 36-hour recovery.
Unfortunately, stolen boats, even when recovered, often suffer serious damage and sometimes result in a total loss. Prevention, as opposed to recovery, could have averted not just the theft of the boat itself, but the theft of the electronics and other damage as well.
A Silent Cry for Change

Spend some time on these sites, and one thing quickly becomes evident: the public is crying out for electronics manufacturers to help combat this problem. GPS trackers, unlock codes, and other theft deterrents are popular topics of conversation.
"Some of the suggestions may be viable options," says Mark Reedenauer, NMEA President & Executive Director. "NMEA wants to involve all the MFD manufacturers in a discussion, so constructive ideas can be put on the table. While some of these ideas seem viable at the surface, when you start peeling back the onion, extensive costs could be added. So this needs to be carefully examined.
It is certainly positive that the marine electronics industry is investigating ways to make MFDs less attractive to thieves through technology. Unfortunately, it is clear that these solutions are far off. These are potentially complex and expensive approaches that do not enhance the boat or the boating experience. In fact, they could drive up costs and complexity, and actually deteriorate the experience.
Boat Monitoring
Conversely, a boat monitoring and security system enhances the total boating experience. Monitoring security is only one of the many features and benefits. A boat so equipped comes with overall peace of mind as a standard feature. Boaters can avoid dragging anchor while out cruising. Arriving to a dead battery can be a thing of the past. Receiving reminders for regular maintenance activities simplifies the boat ownership experience and prevents small problems from becoming big ones.
It is all about a better, easier, more fulfilling boating experience. Not recovering from a bad one. Peace of mind, all the time.
Kane agrees this approach is a good idea, and believes that the more layers to security there are, the better. "If there are security options that MFD manufacturers can look into, that's a welcomed addition," he says. "Security systems are still going to be a first line of defense. We've seen and heard a lot of stories over the years [at GOST]. It's not uncommon for a client to call us the day after a theft attempt on their boat to tell us that the electronics and gear were stolen off a bunch of boats around theirs, before their GOST system scared the dirt bags off the docks.
As the only other valid 'founder' of the boat monitoring and security space – Kane is quick to validate Siren Marine's position: prevention is the best solution, and monitoring and security equipment is the answer.