Choosing The Right Shades
Even on a boat that is brimming with radar, advanced sonar and other high-tech equipment, your eyes are still one of the most important fish-finding tools you have. Anglers with sharp vision can spot boiling fish or diving birds far off on the horizon, pick up the glint of frantic baitfish from under the water, and read the bottom where rockpiles and grass beds attract prowling bass.
For this reason, premium quality polarized sunglasses have long been standard gear for serious anglers. They provide the glare-cutting performance that allows anglers to stare at the water all day if need be in search of their quarry. More importantly, they can provide the visual clarity to see beneath the water and gain an important advantage over the fish, as well as other anglers.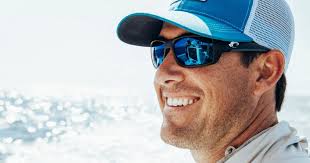 Top tournament anglers list sunglasses as one of their most important pieces of gear. Not all shades are created equal, which is why it's critical to stick with top-name brands that create sunglass styles and lenses specifically for anglers. You can't go wrong with manufacturers like Costa, Maui Jim and Wiley X, for example.
Quality polarization is one of the biggest things that separate top-tier glasses from the rest. This is what eliminates glare off the water and allows fishermen to see what's below the surface. But how do you decide what style, lens type and tint best suit your style of fishing?
The first choice you'll face is glass or polycarbonate lenses. Glass lenses are more resistant to scratches, important if you're the type of angler who tosses his shades in his tackle box without placing them in a protective case. On the flip side, they are heavier, which some anglers find bothersome over long days on the water.
Polycarbonate lenses are lighter, allowing for all day wearing comfort. But they are more likely to scratch if treated roughly. It's for this reason that some brands offer top styles with either glass or polycarbonate lenses.
You'll want a frame that fits your face comfortably, yet securely. Most fishing sunglasses have a wrap-around style to allow for unobstructed peripheral vision and prevent reflected light from coming in the sides. You don't want to be distracted when you're trying to make the perfect presentation to a bass that's hanging under a dock, or dropping a bait back to a tailing marlin.
When it comes to the best lens tint, this is where how you fish, where you fish and when you fish all come into play. The two main factors are tint and light transmission. Generally, the darker the tint, the less light the lens lets through to your eyes. Gray and green tinted lenses are generally darker and let less light through, making them a good choice for bright sunny days and harsh light conditions. Amber or vermillion-tinted lenses tend to let more light through and can actually increase visual contrast in low-light, scattered-light or hazy conditions. If you fish in areas where it's often overcast or grey skies, these may be the best choice. These are general guidelines; most of the major brands do a good job of explaining their particular lens technology and which variations are best for different fishing environments.
Not surprisingly, many anglers have multiple pairs of polarized glasses and choose the best ones to match conditions throughout the day.