While working at the Fort Lauderdale International Boat Show this week (running through Sunday November 4th), the Siren Marine team had a chance to sample a style of night fishing that is unique to the city skylines of South Florida.
Following the first day of the show, Siren's own John Mark Bessada and Alex Puskar joined me on guide Fraser Simpson's 19' Parker center console to sample some exciting fishing "under the lights." This is more than a figurative term, as while fishing with Simpson we took advantage of various lights on the water to hunt our quarry.
This style of fishing takes advantage of two things, actually — bands of illumination and shadow cast on the water by lights on docks and bridges, and tidal movement as water moves in and out of the bay near Haulover Inlet. Both of these things help concentrate schools of baitfish — and where you find food, you'll find predators.
Currents and eddies caused by the water flowing in and out tend to create small shoals of mullet and other baitfish. This is how we started the evening, Simpson tracking a large school of mullet both with his eyes and his side-scanning Lowrance sonar. His fishfinder also indicated several large predators working around the fringe of the school down current of a well-lighted bridge. It was only a few minutes before one of the live mullet we were slow trolling behind the boat was inhaled by something big and heavy. We debated whether the line had somehow become fouled in the rocks when line began surging off the reel against the loud protest of the drag, putting that idea to rest.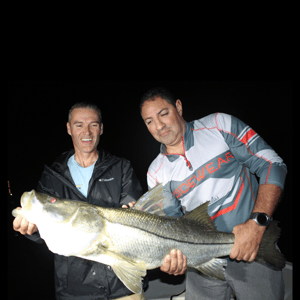 This fish fought as hard as a big tarpon, but it didn't come up and jump like we expected. When the fish finally came into view — well, let's just say that most of what came out of our mouths can't be printed in this story! It was a snook, and the biggest one anybody onboard had ever seen — including our guide, who makes a living targeting trophy snook in this area. After some tense moments, Simpson was able to get hold of the fish's lower jaw with both hands and lift her aboard. This time, the language was a little cleaner, but I doubt there was anybody within our area code who didn't hear our whoops, hollers and loud high-fives.
Nearly four feet long and estimated at an easy 30-plus pounds, this was truly a snook of a lifetime. After taking some quick photographs, we spent a few minutes reviving the big female until she was ready to kick away under her own power.
We then switched to hunting tarpon under the lights, working various bridges and dock lights. You want to find current flowing between two bridge abutments with a distinct line between shadow and light cast down from the bridge. Tarpon will prowl along the dark side of these edges, waiting for the moving water to bring shrimp, mullet and other unfortunate critters to them. By staying behind the shadow line, they remain hidden from their prey until it's too late.
We took advantage of this feeding behavior by positioning the boat so our flylined live baits drifted naturally into their feeding zone. Several times during the night, we saw pods of three or four tarpon working the shadow line, and finally, one jumped on Alex Puskar's bait. After putting on an aerial show for us around the boat, we boated a medium sized tarpon.
When the tidal flow died, we switched modes yet again to another way of catching fish under the lights. Some of the multi-million-dollar waterfront homes in this area have bright underwater lights along their docks and seawalls. These help attract baitfish and create their own lines of shadow and light that predators like snook, tarpon and jacks like to use to their advantage. We stopped on several of these, seeing cruising tarpon in amongst the schools of aggressive jack crevalle. We never did get any of these tarpon to bite, but we had some fun catching the jacks on light tackle and artificial lures.
If you want to experience this type of exciting fishing under the city lights of Fort Lauderdale or Miami, reach out to Fraser Simpson. His website is www.flyandfish.com.