Giant Tarpon Lurk Right Off Downtown Miami
When you think about light-tackle angling for leaping, hard-fighting saltwater gamefish, you probably picture some exotic location like Costa Rica or Baja California. Truth be told, this opportunity exists right under the bright lights of downtown Miami.
When shrimp are running and the outgoing tide flushes trillions of gallons of Biscayne Bay water out through the cuts and passes, roving wolf packs of tarpon move in to take advantage of this conveyor belt of food. These fish can range from 25-pound "baby" tarpon to monsters more than seven feet long and weighing well over 100 pounds. Anglers who find themselves in the right place at the right time can expect multiple hookups on these "silver kings," with fights that include multiple breathtaking jumps and dogged runs. If you're lucky and everything goes your way, you'll get a chance to pose with one of these monsters boat-side, then enjoy the satisfaction as the fish is revived and released to fight another day.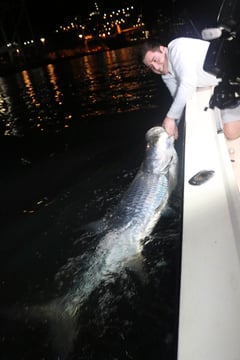 The Siren team experienced this during the recent 2019 Miami International Boat Show. As we had done over the last few boat shows in South Florida, we booked an evening trip with local guide and tarpon aficionado Capt. Fraser Simpson (flyandfish.com). Simpson specializes in taking both locals and visitors out to enjoy this area's amazing fishery. As the sunset and the downtown Miami skyline lit up with a million lights, Siren Marine Regional Sales Manager Alex Puskar joined Allen Schneider, VP of SI-TEX Marine Electronics, aboard Simpson's 19-foot Parker center console for a post-boat-show tarpon hunt. It was a great way to cap off a successful and busy day on the show floor.
Simpson positioned the boat along the expansive loading docks at the Port of Miami, where just the night before there had been a line of massive freighters loading up with cargo containers. There has also been a fleet of small commercial shrimp boats dragging their nets up and down the seawall, hoping, much like the tarpon, to load up on the shrimp being washed out with the tide.
This evening, all the freighters were gone and so were the shrimpers. It didn't take long, however, to see that the shrimp and the tarpon still remained. Flocks of birds could be seen dipping and rising over the turbulent surface, plucking shrimp from the water. Every now and then, a large swirl would be seen as some tarpon moved in to get their share.
Watching this action unfold, it was easy to see how nature took advantage of this manmade environment. Wherever there was light cast down on the water and any sort of indentation or break in the seawall that trapped shrimp in some sort of eddy, the tarpon and birds would move in. Simpson used his boat's electric trolling motor to set up a controlled drift through these areas, flylining live shrimp behind the boat on large 8/0 circle hooks.
Schneider was first to hook up, but the tarpon quickly earned its freedom by leaping fully in the air and crashing down on the leader. On the next drift through the area, he hooked another tarpon – a respectable 75 pounder — that he landed after a fight of about 30 minutes. Puskar hooked his tarpon a couple of drifts later, and we could tell right away this was a bigger fish. Instead of immediately jumping, this fish took off on a blistering run, seemingly intent on beaching himself somewhere on Key Biscayne. It took close to an hour of give-and-take, tooth-and-nails battle before the monster, seven-plus-foot tarpon (estimated around 100 pounds) was tired enough to be subdued at boatside. After posing for some pictures and video, the fish was revived and released by Puskar.
It's amazing that such a great big-game fishery exists right in a city of millions. It's even more amazing that we had it all to ourselves during the biggest and busiest consumer boat show in the world.
If you want to give this epic evening fishery a try, reach out to Fraser Simpson at
(954) 292-5512 or visit his website to learn more about these trips.