Is it just us or does finding the perfect gift for loved ones get more difficult with each passing holiday season? This year get a jump start on your holiday shopping and take the stress out of the process with our pick of the best gifts to give the boater in your life.

The perfect gift for the water enthusiast who has too many hobbies. The Rover Aero is a skiff, a dingy, a tender, and a motorized inflatable paddleboard that folds up into its own portable bag. Perfect for the adventurer in your life.

Setting the mood on the water has never been easier with the world's first touchscreen marine stereo with Apple AirPlay 2 and built-in Wi-Fi. Seamlessly stream one audio source from your compatible Apple device to multiple Apollo Series marine stereos on the same network.

This gift is both fun and practical and won't break the bank. With its grippy outer casing, it's easier to use than a pair of binoculars and doesn't require you taking both hands off the wheel.

We all know that one person who loves getting out on the water but hates snorkeling. A full-face snorkeling mask makes breathing underwater that little bit more comfortable and gets everyone involved in the fun. Even traditional snorkeling enthusiasts might want to get on board here. The Ocean Reef mask improves panoramic vision, gives the ability to breathe from the mouth as well as the nose, keeps the face dry and doesn't fog up.

The underwater world is in full sight with the Aqua Vu Micro Camera. With clear color video in a smartphone-sized package, the viewing features a high-resolution 4.3-inch LCD and a 50ft tough, abrasion-resistant camera cable.

The roughest, toughest treatment has nothing on the Sea to Summit hydraulic dry bag. The perfect accompaniment to any boating trip. If you know a boating enthusiast who doesn't yet have a dry bag this is a must-buy accessory.

The perfect gear for any occasion. Watertight, and indestructible this box is perfect for storing everything from fishing gear to tools or emergency supplies. It comes with a handy divider, a caddy tray, and a zippable storage pouch in the inner lid.

While gifting cleaning equipment might feel about as exciting as gifting socks for Christmas, every boater knows that keeping their boat looking pristine is half the job. These Shurhold brushes take the hard work out of keeping your deck clean. The combo deck brush features longer soft fibers for washing and medium-short fibers for scrubbing and a rubber edge that prevents bumps and scrapes to your boat.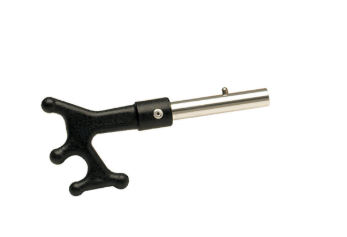 Why not make finish out the Shurhold brush and make it a set. From choose-your-length handles, to boat hook connector, to a threaded adapter, you'll find something that will make the brush an even more perfect gift for the cleanly boat enthusiast.

Enjoy a drink on the water without the hassle of spilling half your cup. This cup and bottle holder mounts onto most standard sized rod holders and is the perfect companion for a long, hot day on the water. Safely and stylishly hold bottles, cans, and tumblers without spilling a drop.

If you're looking for a portable anchor system for a small boat, stand up paddleboard or canoe look no further than the Airhead Complete Folding Anchor. It weighs just 3 ½ pounds and its four flukes will hold steady in mud, sand, gravel, and rock. Never float away again.

Those early morning fishing trips or late night cruises are finding boaters out on the water in the dark. Blackfire's waterproof light is the perfect stocking stuffer. The clamplight is waterproof and able to transform in three ways - standard flaslight, to clamp light, to free stand light, all providing light where and how you need it. And only at just under $21, it's the perfect addition to a gift list.

With 15 tools all in one device, it's the classic tool that you can open to the knife with just one hand and won't corrode due to its stainless steel construction. You can never go wrong with the classic Leatherman.

On the open waters, you need to be able to see far, wide, and clearly. These binoculars are an essential item on any boat, with high-contrast optics ensuring clear visibility for any weather conditions, and an illuminated compass feature, these binoculars are a no brainer. And don't fret the price, binoculars are something you never want to skimp on.

For serious boating enthusiasts, we couldn't not include the Siren Marine Connected Boat. While you're enjoying the holidays (and dreaming of getting back out on the water) our revolutionary Connected Boat™ technology ensures your boat is safe, secure and always ready to enjoy.
Also, we're running a promotion between Black Friday (11/29) and Christmas Eve (12/24), during which customers can take advantage of $100 off retail pricing on the MTC or MTC+2. Now's as good a time as any to get set up with peace of mind for your boat (or a friend's)!