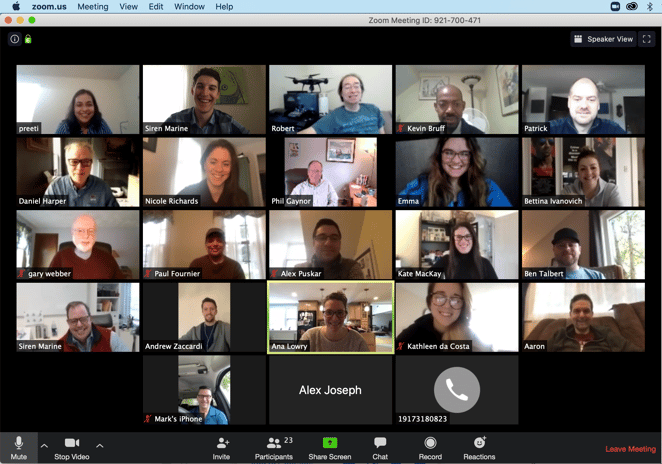 It is a time of uncertainty for everyone: businesses, governments, populations across the globe. At Siren, we took an early proactive position sending everyone home to work remotely. Essentially all of our systems and business software live in the cloud - so this was not a difficult transition. For our Engineering teams – who are deep into the final stages of a major new product cycle – being heads down and connected remotely may actually provide an environment ideally suited for the intense focus they require.
But how does a company with a collaborative culture, an open office floor plan, and fast, open channels of communication remain effective and efficient? For us, there have been several key elements to remaining highly efficient during these early stages of the Covid-19 quarantine: Slack, Zoom, and Daily Challenges.
Slack
Most of us that didn't buy Slack stock when it was first out, regret it. For any of you that do not use Slack in your own company's inner-office comms network, here is a snippet from their website:
"Slack is a collaboration hub that can replace email to help you and your team work together seamlessly. It's designed to support the way people naturally work together, so you can collaborate with people online as efficiently as you do face-to-face."
Siren uses Slack in the office all day, every day. Now that we are remote, Slack is part of the glue that keeps us connected and cohesive.
Zoom
Like Slack, Zoom is crushing it. Here is how the company describes itself:
"Zoom is the leader in modern enterprise video communications, with an easy, reliable cloud platform for video and audio conferencing, collaboration, chat, and webinars across mobile devices, desktops, telephones, and room systems."
The image atop this blog is a screenshot of our morning Zoom Standup. This is one of the ways that we are keeping our community connected. Everyone takes 30 seconds each morning to state their main priority for the day. This happens at 9:00 am sharp, and gets everyone connected and focused on the day's priorities.
Daily Challenges
I believe that people and communities function better and more efficiently when they enjoy the people they work with and the projects on which they work. To help boost team spirit and our general humor, as well as foster a bit of friendly competition, I post a challenge question to our general slack channel 2-3 times a day. Most of the time the questions come from the history of Siren or an interesting tech question about our products. Sometimes, however, they are just plain old fun – or funny flotsam & jetsam. Here is an example:
Who knows the name of one of the yachts that @Jeffrey captained?
This serves to help us get to know more about each other and the company in general. Who doesn't like a little 'Company Jeopardy'?
During this time of uncertainty, here's our winning strategy to keep everything running smoothly while we all work from home:
Communicate often – in particular, stay engaged over Slack

Connect daily – host a daily company-wide standup video meeting to share priorities

Collaborate throughout the day – use Zoom to hold regularly scheduled meetings

Create engagement – inspire a little fun & friendly competition