Historical Nantucket is just one of the gems in New England's sailing crown. The island is known simultaneously as a cultural and historical hub perfect for weekend getaways and as a luxurious destination that attracts the ultra-wealthy in droves. With its history of whaling, quaint shingled houses, chic boutiques, fine dining restaurants, and beautiful beaches, Nantucket has something for everyone.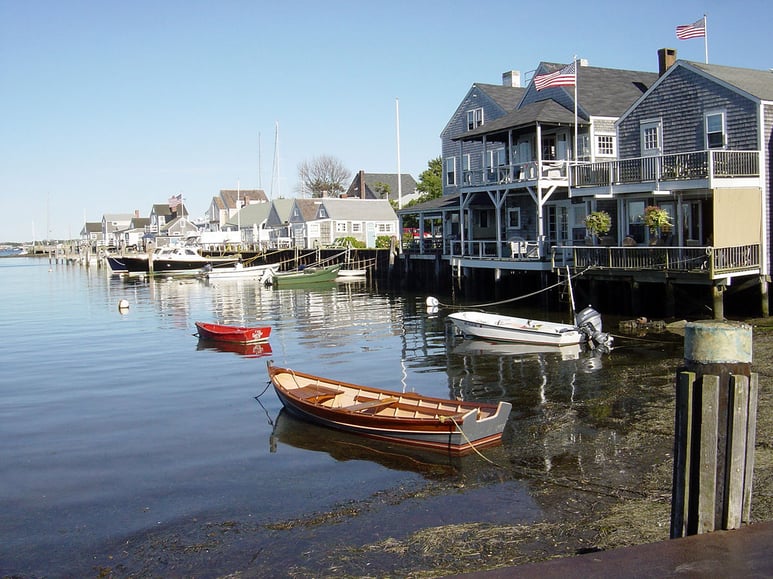 When to go.
There's no better way to spend a weekend on Nantucket than on a boat. The island's local population of 10,000 swells to five times the size during summer, making it a popular getaway. Avoid the crowds by setting sail in September or October. Or take advantage of the lull after a long weekend — the weekend following 4th of July is quieter than usual in summer — as the crowds are thinner as most visitors head back to work.
Before you set sail.
Regardless of whether you've already taken your boat out this season, it's still a good idea to check batteries, lights, safety features, pumps, engine systems, and rigging before taking on an overnight journey. One of the easiest ways to stay on top of boat maintenance is to adhere to a checklist.
A monitoring system like Siren Marine can also help you stay on top of maintenance and give you peace of mind even when you are away from your boat. View real-time information on the status of your batteries, engine hours, shore power, and temperature and receive instant alerts when critical events occur.
Getting there.
Nantucket is an accessible sailing option from anywhere along the New England coast. Sailing from Boston presents two options — traveling around Cape Cod or through the canal. Taking the canal can cut 100 nautical miles off the distance of your journey and is definitely the safer option. Taking a passage outside of Cape Cod is not to be taken lightly. The route can be challenging for even experienced sailors. Planning is essential to navigating the many areas of shifting sand, strong tidal currents and bad weather that can roll in from the Atlantic. Conditions can vary from calm to treacherous when sailing between Nantucket Sound and the open ocean.
Where to dock.
As you sail into Nantucket harbor church steeples and historic captains' houses are visible along the island's ridgeline. In the off-season, there is a good chance that one of the 100 unreserved moorings will be available. In the busier months, a reservation is recommended. (Rumour has it there's a three-year waitlist for the 4th of July weekend.) Typically reservations require a minimum of 2-3 nights.
Things to know.
Nantucket waters have been declared a federally designated no-discharge zone. This means "gray water" — wastewater from dishwashers, washing machines, showers, galleys or sinks — cannot be discharged into the waters. Environmentally safe cleaning agents are also required for cleaning your boat. With both commercial and recreational populations of oysters and other shellfish in the area, soaps and detergents can cause toxicity towards marine life and water quality. The Nantucket Boat Basin has free pump-out services for gray and black water. Nantucket also has strict recycling policies. You can find recycling bins located throughout the docks.
What to do.
Once on the island, there's no shortage of ways to spend a long weekend. Explore the historic elements of Nantucket from quaint shingle houses to the whaling museum. For a day spent on the ocean, Nantucket Sound is a must-do. The landscape varies from the open ocean to salt marshes making for a diverse range of marine life.
Nantucket has a variety of beautiful white-sand beaches on all sides on the island perfect for swimming, surfing or simply enjoying the view. The western and eastern shore beaches are better for surf due to their stronger currents. Quidnet Beach is a local favorite and far less busy than the popular north shore beaches. For a pleasant afternoon of exploring head to Tuckernuck Island west of Nantucket. It's the perfect place to escape to for long walks along the coastline and wildlife spotting. Nantucket's three lighthouses are worth checking out for both the views and history.
Whichever way you choose to enjoy Nantucket Island Siren Marine's connected boat can take some of the stress out of maintaining your boat before any trip.