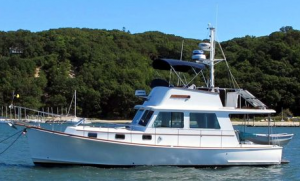 Ben Ellison, the editor of the Marine Electronics blog Panbo, recently left his Maine based trawler Gizmo in Myrtle Beach, South Carolina for the winter. Untended.
Now that his boat is docked in Osprey Marina, he is relying on one of our Pixies to provide status updates and peace of mind while he is up North. Check out his recent blog from November 27th;
Thanks to a Siren Marine Pixie, I know she's exactly where I docked her, the main battery is floating at 12.7v, and the temperature in the engine room is 50 degrees Fahrenheit. I hope to add more sensors when I go down for a work session in a couple of weeks.
Thank you Ben for the update. We look forward to following you on your trip back to Maine, and also to hearing about future applications of our device on Gizmo.
Image: Gizmo in Port Jefferson on her Trip South